Garmin Approach S6, golf
Watch / GPS golf computer
The golf GPS watch for more advanced, lightweight design and optimized performance
CourseView button allows you to view the exact distances and the shape and distribution of a real hole, including output, the streets and the green
Includes swing metrics: SwingTempo, and TempoTraining SwingStrength ™
Color touch screen high resolution that can be read in sunlight and use gloves
It has intelligent notification function that allows you to receive email, text messages and alerts directly to golf on the clock from your iPhone 4S or later
Accurate distances to more than 30,000 international fields; without subscriptions or fees
The application course of Garmin Connect allows you to play, analyze, share and compare your journey; for more information visit GarminConnect.com
The device is a clock S6 Approach for golf, fine, light, color touchscreen GPS and high resolution that incorporates many functions, among which are a completely innovative metrics swing. This watch has gotten even received the Red Dot Award, the most famous industrial design award.
CourseView maps in full color
The clock S6 incorporates color views of more than 30,000 international fields and a button to quickly display specific CourseView entire field. Get a preview of the dogleg, the sand banks and water hazards, as well as the placement of the flag from any point of the field or the club.
Immediate, simple and precise
The clock S6 offers everything a golfer needs: automatically detects and controls the golf course the transition from one to the next hole. Field shows always measures in respect yards to the front, back and middle of greens in a color touch screen high resolution that can be used with gloves. Other distances dogleg approach and features customizable points for yards (brands sandbars and obstacles).
Touch and move the flag
View Green you
w
ere
the shape and design of real greens, even when you're behind. Use a color touchscreen to manually drag and drop the flag in its present location. As you move the pennant, numbers that indicate your distance from this change respectively. This is especially useful when it is a par 3: you can set the distance you need and throw with ease.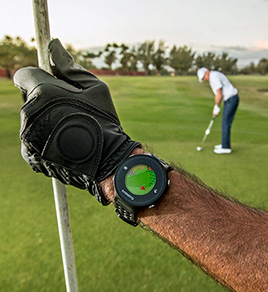 Keep your handicap and your scores and times as
The S6 has the following options: score for handicap hole single player or local handicap index method / pending. Scoring options include Stroke Play and Stableford. You can save, see, share and print scorecards from your computer. In addition, when you make a good shot, you can see your route with the distance function once. S6 allows you to even bring a complete statistical tracking: you can keep you abreast of trapped streets, greens in regulation and putts per route.
PinPointer
PinPointer the function of assistance of blind shots that were previously only available in high-end handhelds, letting an arrow towards the green. Now you know where to align your time, even if you're among trees or a sandbar.
Notifications smartphone
Do not miss any text message or email alerts so you're stopped smartphone in your bag. The S6 acts as a wireless extension of your iPhone 4S or later device and shows you the device information directly to your wrist. This watch keeps you discreetly informed at all times, even if you're in the middle of a street.
Greater battery life and high quality design
The S6 now has a longer lasting battery for you to enjoy the game more and more routes. Will have no problem to use it for a whole weekend dedicated golf GPS: You can enjoy up to 10 hours in full GPS mode and up to 14 weeks, depending on the mode chosen before the battery runs out Li-ion. And thanks to the high quality of the watch design, the classification is water resistant to 5 ATM (50 meters), or heavy rain or inclement weather pose a problem.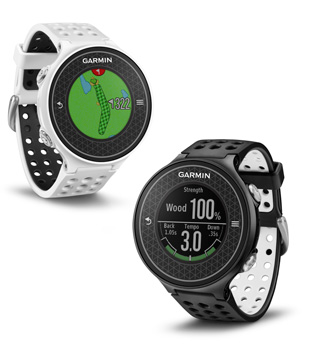 Fields preinstalled and free updates
Maybe the S6 is our clock golf thinner and lighter, but boasts more than 30,000 preloaded courses from international you can enjoy without additional subscriptions or fees. In addition, you can download updates when available fields and free.
Garmin Connect ™ for Golf
Garmin Connect is virtual golf community that lets you share and compare data after the game. Download your route, compares it with the previous one and see if you have improved game after game. With the application of course Garmin Connect you can even create your perfect itinerary, combining the best score for each hole of the 18 hole match perfect.
Objective: to watch golf with a design that strives for perfection
The S6 was developed in order to exceed the expectations of the most demanding of golfers worldwide and has been awarded the prestigious Red Dot industrial design exception. In the words of the jury, "The Approach S6 blends designed to the last detail with innovative functionality, which obtains results in a very elegant appearance."
A modern clock for daily wear
Incidentally, the S6 also indicates the hour. This watch has a counter so you can see the distances go. The tour also includes a timer so you can see how much time has brought you to complete 18 holes.
The Bluetooth trademark and logos are registered trademarks owned by Bluetooth SIG, Inc. iPhone and iPod are trademarks of Apple Inc., registered in the United. States. and other countries.



SwingStrength ™




The function of the unit SwingStrength S6 can calibrate the force you apply to your golf clubs, allowing you to train your swing is more uniform.




CourseView
Get details color of each hole of more than 30,000 international fields, even before playing. Read a preview of the dogleg, obstacles and the way the greens, regardless of where you are, whether in the field or even at home.
Measuring distances
Just take a look at your wrist, anywhere in the field, to get the distance in yards zones front, center and back of green area, with clear and easy to read numbers.
Distances approach
The camp administration is essential, especially if it is the first time you play in a certain field. You can check the distance in yards dogleg approach and other obstacles in the field.


Notifications smartphone
You can receive emails, text messages, alerts and more you watch. S6 shows you all the information you can check your iPhone ® or iPhone (4S or later) wireless via Bluetooth ®.
Registration statistics
Enter strokes, putts for the route, the greens in regulation and streets to prevent trapped you will forget. Later, you will find information when you access your printable scorecard.


Physical and Performance:
Dimensions of the unit (w / / Depth) 4.5 x 4.5 x 1.42 cm
Screen Size (Width / Height) diameter 2.54 cm
Screen resolution (Width / Height) 180 x 180 pixels
Type of screen color touch screen high resolution
Weight 46.6 g
Li-ion rechargeable battery
Battery life 14 weeks (clock mode); 10 hours (GPS mode)
Classification of water resistance 50 meters
GPS Yes
High-sensitivity receiver Yes
USB computer interface
Maps and Memory:
Maps fields if (30,000)
Features and benefits:
Yes Touchscreen
Touch-targeting (touch target display to see where in the distance to point) Yes
Manual pin positioning (tap and drag flag where green for yardage needed) Yes
Full Color Maps CourseView not
Tracks stats (putts per round, greens & fairways hit, average distance) Yes
Digital scorecard if (score options include Stroke Play and Stableford for single player)
Computer scorecard review (for save and review the scores where computer) Yes
There PlaysLike distance
No suggestion Club
Not big numbers mode
Yes PinPointer
Additional
Specific view of the green button, if
SwingStrength ™: if
SwingTempo: yes
TempoTraining: yes