GARMIN EDGE_520
GPS bike
It offers real-time segments Strava
Report of maximal oxygen consumption and recovery time specifically for cycling when used with power sensor and heart rate.
Roller supports ANT + ® displays and controls your data you're on the wagon.
Tracked functional threshold power (FTP) of watts / kg and dynamic cycling when used with the power sensor or Vector Vector ™ 2.
Online¹ functions: Load your workouts to Garmin Connect automatically, real-time monitoring, intelligent notifications, sending and receiving routes, sharing in social networks, weather reports.
This is Your Competitive Edge.

Part of the streamlined look of the popular Edge 500 and add challenges along the way through segments in real time Strava, a color display and analysis functions and advanced connectivity. The result is the Edge 520 GPS bike computer with the perfect size for professional cyclists and the functions were desired.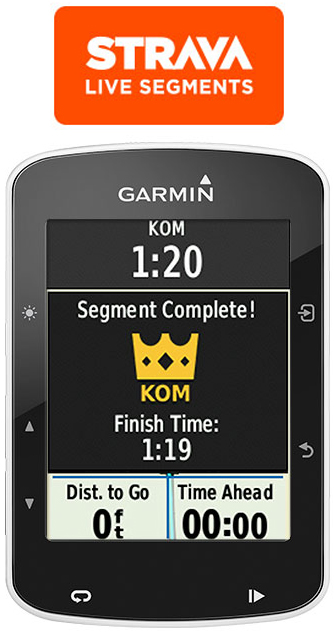 Test your Edge
The Edge 520 is compatible with the first cyclocomputer segments in real time Strava, also includes a trial period of two months Strava Premium. With your subscription Strava segment highlights are automatically synchronized with the Edge 520 to have all information in real time during your journey. We also alert when a segment begins or ends, and shows you the ranking once you have completed a segment.
Train to the fullest, with your Edge

Need motivation to overcome kilometers solitary hikers? Edge 520 provides a set of functions for your workout when linked with rollers ANT + compatible. Say you want to train an average power of 240 watts. Set the target in the Edge 520 cycling and roller begins to automatically adjust to keep you in the goal while the device shows you the statistics. You can also follow a route that you have created or any other rider and compete literally statistics registered through adjustable resistance roller to match the profile height.
Linking it with a power meter, the Edge 520 offers a range of additional functions, such as monitoring and FTP watts / kg so you can compare yourself with others, like the dynamics of ciclismo². An integrated FTP test helps establish the reference point on the roller or on the road. Add your cardiaca³ frequency and Edge 520 can estimate your maximum oxygen consumption and recovery time after the race, indicating how long you must wait before returning to make another effort.
screen optimized

The Edge 520 gives up nothing when it comes to screen: 2.3 inch color high resolution. We optimize the screen to give you a larger viewing area compared with the compact size of the Edge 520 also appreciate the clarity of the screen in all lighting conditions.
The bicycle connected

The Edge 520 is compatible with ANT + sensors, including radar and lights bicicleta4 Varia ™, speed, cadence, heart rate, remote controls and VIRB® Edge and compatible scales. It also integrates with Shimano electronic shift system Di25 to show up on the screen now. The Edge 520 is also compatible with ANT + power meters, including the Vector series.
Connectivity smartphone

The link it with your phone and compatible Garmin Connect ™ Mobile application, the Edge 520 provides real-time monitoring, notification smartphone, sharing in social networks, weather information and wireless charges. Once the trip is completed, the data can be automatically sent to Garmin Connect ™, our online community where you can save, plan and share your routes.
Robust and accurate

With its compact design and sturdy, and the autonomy of the battery up to 15 hours, the Edge 520 is perfect for adventures outside the traditional routes. It also supports GPS and GLONASS satellites for unmatched accuracy.
¹Al link it with a compatible phone.
²Cuando used with a power meter Vector Vector or two.
³Se includes some models and sold separately on others.
4 With software upgrade in the future.
5Compatible systems Shimano Di2 electronic exchange of data management function Shimano D-Fly.