Garmin Vector
Power sensor Garmin
Power meter pedals of your bike

Provides accurate and reliable performance data
Easy to buy, install and use
Measure the total power, the power balance between the right and left leg and cadence
Other data on devices compatible Edge ® Forerunner ® ¹ watches multiesportius
Other metrics and graphical power Garmin Connect ™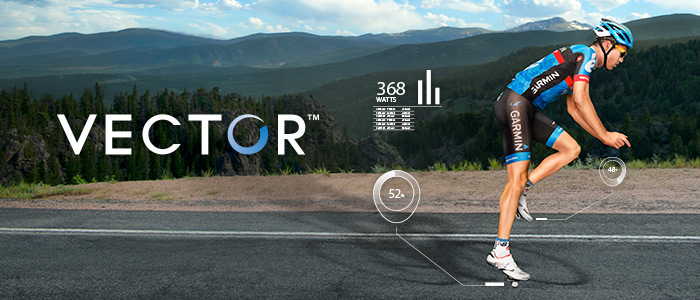 Measure the power where it really matters

Access Vector minisite

Garmin Vector gives strength to the world, an innovative power meter pedal. Not only renews the way it calculates the power, but also changes the way the cyclists get; is extremely easy to purchase and install. Vector pedal power as the place where the force is applied. It is a direct measurement power meter that provides accurate and reliable data. Since the sensors are housed in the two power pedals, Vector offers you the option to check the strength of your legs left and right individually.

Easy to buy, install and use
Before, getting a power meter was a complicated process that usually require mechanical modifications to the bike. Vectors, this has changed. Now you can go to the nearest bike shop, go out with a Vector power meter in hand and install yourself in minutes. No need to go to a mechanic or you run out of your bike while in the store. In addition, it is necessary to consider complex impact on the transmission or on wheels, install or external sensors.

Thanks to its extra width and margin width for the crank, Vector fits virtually all bicycle models. The standard power sensors fit rods from 12 to 15 mm thick and 38 mm wide. The sensors fit cranks great power from 15 to 18 mm thick and up to 44 mm wide.

Dexterity after Watts
Vector works by measuring the deviation of the axis of the pedal pedal while. By comparing the measured deflection calibration factory, Vector can calculate how much force you apply to the pedal. Vector measure the force you apply several hundred times per second. The built-in accelerometers also measure pedaling cadence. The power sensor and the electronics associated with it are sealed securely and permanently to the axis of the pedal.


Complete your cycling accessories
If you already have a head unit is compatible Garmin Garmin Edge 500, 510, 800, 810 or Forerunner 910XT and adding a Vector power meter, the quality of your training will be of a higher level. Vector measure the total power, the power of the left leg and right, and cadence. It also sends data to computers and other compatible Edge bike main units compatible with ANT + technology ¹. Complete your accessories with your career further analysis, maps, route planning and sharing of data on Garmin Connect. Counting all the electronic systems of biking and analyzes from the same brand, which means we can rely on the team, the user experience and assistance.

¹ In the tab "specifications" find information about the data that can be viewed on compatible Garmin devices.



Body and pedal assembly

Lightweight composite body
Stainless steel wear plate
Hardened stainless steel shaft and computerized numerical control machining (CNC)
Bearing with sealed cartridge bearings
Adjustable voltage Creek
Compatible with LOOK Keo ¹

Pedal Pod

Transmitters ANT + ™
User replaceable battery (button type 2032)
Minimum of 175 hours of operation for cycling activities

Cales

Pads with non-slip rubber surface very durable thermoplastic
Button to reduce the floating rubber between the shoe and cove
6 degrees of float (also available with 0 degrees)
Compatible with LOOK Keo ¹

Vector System

Battery life: 175 hours
Weight (approximate pedal):
Pedal: 152 g
Power sensor: 23 g
Coves and hardware: 38 g
Total pedal: 213 g
Compatible Garmin device

Data
Edge 810 Edge 800 Edge 510 Edge 500 910XT Fr Fr 310XT
Total power Yes Yes Yes Yes Yes Yes
Left / Right field data Yes Yes Yes Yes Yes No
% / NP ¹ / ² TSS / IF ³
Power to turn screen Yes Yes Yes No No No
Guide calibration Yes No Yes No No No

Normalised Power ™ ¹ (TrainingPeaks)
Training Stress Score ™ ² (TrainingPeaks)
Intensity Factor ™ ³ (TrainingPeaks)