GARMIN VIVOSMART_HR
Clock intelligent activity and sport, connected mobile phone.
Heart rate wrist

The activity monitor inteligent¹ vívosmart HR heart rate Elevate ™ technology measures the heart rate from your wrist uninterrupted. This gives you the freedom to train without using an additional chest band for the heart.
With the heart rate, HR vívosmart provides information on calories burned and quantifies the intensity of your sports, which get greater credit for your efforts. You can even use your vívosmart HR heart rate sensor as to link it with other compatible Garmin devices.
Much more than steps

In addition to measuring steps, calories and distance measuring HR vívosmart raised floors with integrated barometric altimeter. Whether you like to swim if you want to try a new fitness class, measures the intensity of your activity function Minutes assets. This function allows you to monitor your progress based on activity goals recommended by organizations such as World Health Organization and other centers for disease control and prevention of Americans.
Online Features

Stay active and connected to the tracking device vívosmart HR activity. Each time you receive a notification on your smartphone compatible, the device will vibrate gently and automatically display the information. Just touch and slide your finger across the screen to access complete information. Other online features allow you to control your music and your camera action Virbia (sold separately), or find your phone if it is lost.
Surpass your results every day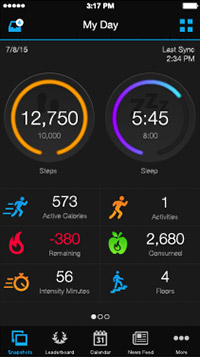 vívosmart HR memorizes your current activity level, then assign a daily step goal achievable. As you fulfill your goals, adjust the aim of the day, impulsan gradually towards a healthier lifestyle. Throughout the day you remember to keep you active and idle line with a warning vibration if you've been inactive for 1 hour. Give a short walk to reset the timer of inactivity.
Connected

The tracking device vívosmart HR activity automatically syncs with your smartphone throughout the day to keep your stats in our free online community. At Garmin Connect ™, you can save, plan and share their activities and overcome your results the day before the counting of steps daily. Connect with others to make challenges and compete. For detailed track of calories, you can create an account MyFitnessPal and link it to your Garmin Connect account. This will allow you to compare the calories and total calories burned, vívosmart HR data recorded throughout the day.
¹Precisión live monitoring activity
²Al tie it with a smartphone compatible