GARMIN_SWIM
Watch / Computer swimming
Elegant clock that has long swimming and more
* Register the distance, pace and the type and number of laps
* Load wireless Garmin Connect to analyze, store and share data online
* Measure your swimming efficiency (swolf)
* It offers advanced features to record and timed series of exercises
* Water resistant up to 50 meters

Do not tell more laps. Let me do it for you thanks Garmin Garmin Swim. The clock designed for use in swimming piscina¹ will calculate your distance, pace, number of laps and more.
Put it off and dive
Garmin Swim is ready so you can use immediately, please indicate the size of the pool when mined and start your workout. Its sleek profile makes it possible to cross the water without problems, and most importantly, without reducing your speed. In addition, you can change the battery yourself when needed (about once a year) instead of having to send the manufacturer; thus always be ready for use.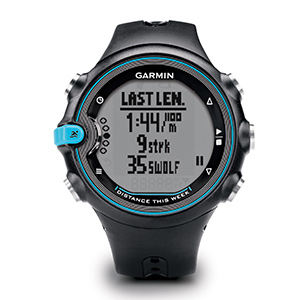 Concentrate on your workout
With Garmin Swim on the wrist, you can concentrate on technique instead of thinking about what you're back. Automatically detects and stroke you're using track of your long laps, distance, pace and more. With the push of a few buttons you can register technical exercises or start timed sets without having to constantly watch the slope of the pool. Calculate your score even SWOLF to help you measure your effectiveness in swimming, so it is perfect for those who practice freestyle, whatever their level. Its intuitive interface is characterized by 6 external buttons that make you to access each of the functions quickly and easily.
Stay motivated
With chic design so you can use it as a normal watch, Garmin Swim serves as a personal reminder of your goals. To help you stay motivated, shows the distance that you have accumulated a week so far. The clock functions include dual time zone and alarm.
Analyze and share workouts

When you finish a workout, you can load the data of swimming in our Garmin Connect ™ website for free online analysis. On this site you will find detailed metrics and track your progress over time. You can also share your workout data with coaches, swimming companions, friends or family. Thanks to the magic of ANT + ™ wireless technology and the tiny USB stick that incorporates your Garmin Swim, your workout data is automatically transferred to your computer when in its area of ​​reach. Garmin Connect is Mac® and Windows® compatible.
¹Dissenyat to train in pools of at least 17 meters.
Physical Characteristics and Performance

Unit dimensions (Width / Height / Depth) 4.8 x 1.3 x 4.4 cm (1.9 "x 0.5" x 1.7 ")
Screen Resolution (Width / Height) 55 x 31 pixels
Weight 40.0 g (1.4 oz)
CR2032 battery (user replaceable)
Battery life 1 year
Classification of water resistance 5 ATM
Functions Clock Time of day (12/24 h), dual time zone, calendar (day / date), daily alarm

Maps & Memory
Waypoints 55 x 31 pixels
Best 4.8 x 1.3 x 4.4 cm (1.9 "x 0.5" x 1.7 ")
Track log Time of day (12/24 h), dual time zone, calendar (day / date), daily alarm

Functions swimming
Metrics swimming pool (length, distance, pace, count / speed laps, calories)
Identify the type of stroke (eg freestyle)

Registration exercises
Timers rest

Garmin Connect®
Garmin Connect ™ compatible (online community where you analyze, categorize and share data)
Auto-sync (automatically transfers workouts to your computer)